Yogurtland is one of the best fro-yo shops, whether you are in California, Nevada, Hawaii, New York, Texas, and soon, Arizona. There is a variety of flavors and toppings, and cute plastic spoons with "Yogurtland" imprinted on the handle. The store is cool and bright with a contemporary design. Green tiles cover the wall, and the Yogurtland sign hangs above the self-serve fro-yo dispensers.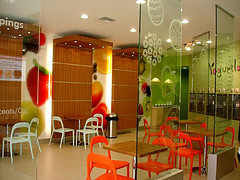 Yogurt: smooth and creamy, like ice cream but healthier! doesn't leave a chalky texture/aftertaste
Toppings: fresh fruit, cookies, chocolate chips, cereal, nuts, candy, and more!
Check out
Yogurtland
online!